The demand for wireless connectivity is ever increasing as wireless technology has become a staple in almost every device used in frequently trafficked buildings, from single-family homes to commercial airports. The number of devices connected to WiFi increases exponentially depending on the intended purpose of the wireless deployment.
While an enterprise network is engineered and designed with hardware that delivers higher performance, a small business that utilizes WiFi for web browsing or content streaming can usually get by with just a consumer grade wireless router. Since there are some issues that arise when using consumer grade wireless products for larger-scale use, it is important to consider the following factors in order to make the best decision for your business.
---
Building Size
A single, consumer grade access point is typically designed to support 30-50 devices. An enterprise network solution that utilizes multiple access points that work together, on the other hand, can serve as many devices as found on a college campus. Falling somewhere in the middle, small businesses are in the unique position of having a choice between consumer grade and enterprise wireless solutions. However, there are several factors that contribute to making the best decision for your business.
If you are running your business out of a small space, consumer grade equipment will most likely be enough.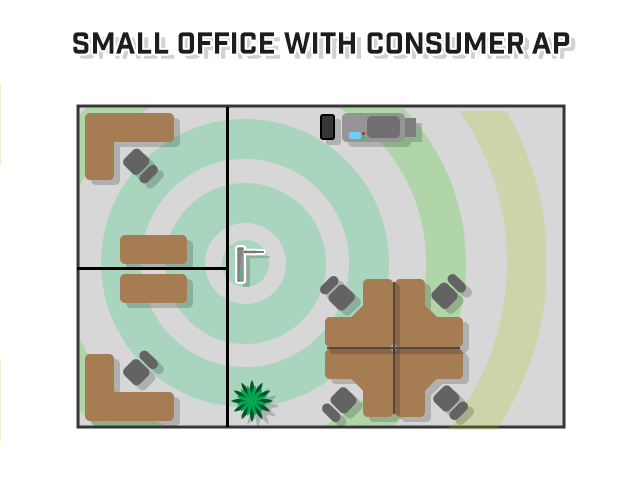 If you are expanding your business to a larger space, enterprise level hardware might be needed depending on the size, shape, and building material of your new location.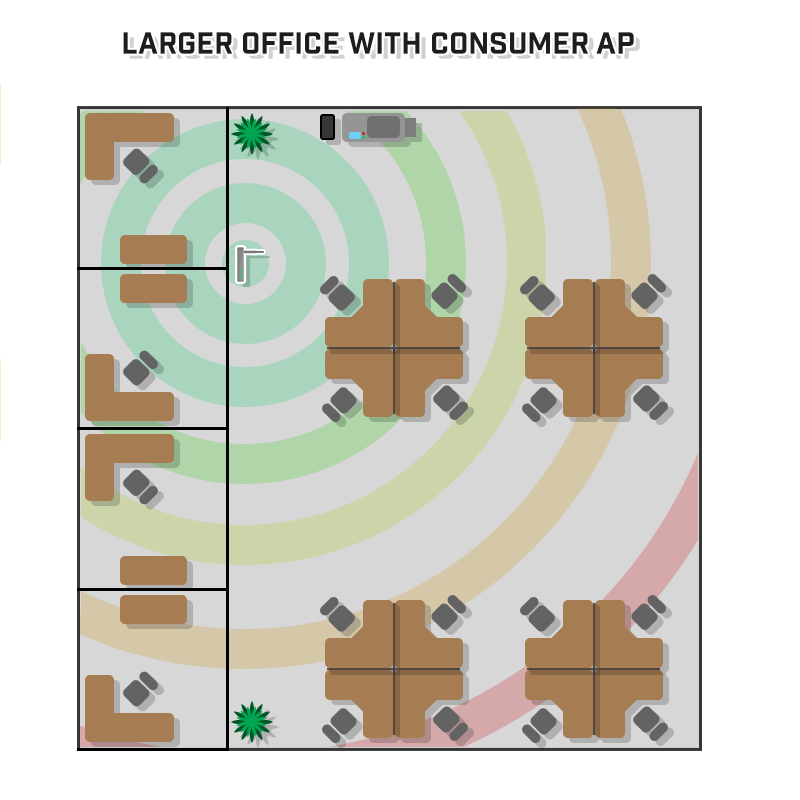 Designed with multi access point management capabilities, enterprise hardware has an edge up on consumer grade equipment because it's meant for more demanding areas. More often than not, the building size of an organization will depend on the number of people that frequenting the space. With more network users and WiFi enabled devices, the network will require more power and resources in order to support all the traffic.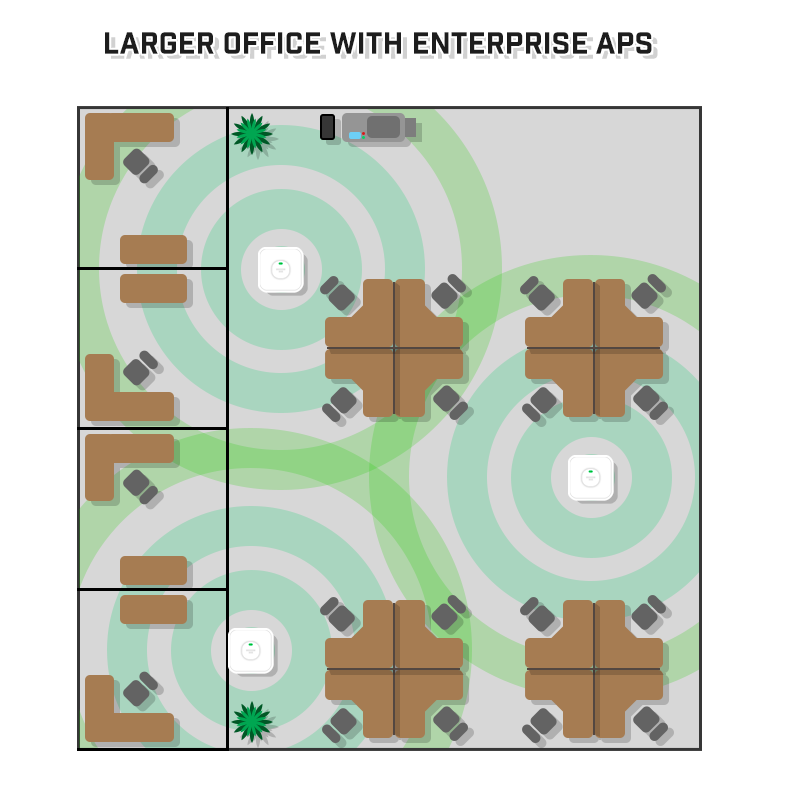 ---
Aesthetics
When designing a business' wireless network, it is important to find the best placement for the equipment in order to get the best use out of your network. Store bought networking equipment is often placed on a shelf or may even be tucked away in a corner in the hopes of hiding the hardware. While these locations might work for certain home setups, poorly positioned hardware can severely impact a network's performance, thus impacting a business' performance.
Enterprise hardware has the ability to be installed, usually on the ceiling, out of sight from customers, employees, and other users. Installing the hardware on the ceiling also allows for the signal to evenly distribute without being disrupted by obstacles.
---
Price
A small business' budget is probably the largest deciding factor when it comes to using consumer or enterprise grade networking hardware. Anybody can walk into just about any electronics store and buy a wireless router. Enterprise level hardware is pricey because of all the features and management costs that go along with it. That being said, the enterprise grade equipment is made to last longer, support more users, and meet all of your business' security needs. Since finding a happy medium between meeting budgetary requirements and network requirements can be difficult, it is best to work out the requirements of the network and plan accordingly.
---
Security
Depending on your business, security should be a top deciding factor for what kind of network equipment you decide to deploy. Compared to an enterprise solution, consumer grade typically offer fewer advance security options. In addition to fewer security configuration options, consumer grade equipment can cause a single point of failure because everything is bundled together. Therefore, if one part of the network goes down, the entire network could be compromised. Enterprise hardware is quite the opposite. Because its settings have the ability to be customized and configured, sections of the network can be walled off in order to prevent security breaches.
---
Enterprise vs Consumer: AP Features
While there are some overlapping features between enterprise and consumer grade equipment, it is obvious that an enterprise solution offers more benefits. Overall, the consumer grade hardware lacks the reliability, management, support, and services that an enterprise solution can provide.
Enterprise AP Benefits

Consumer AP Benefits.


Quality of Service controls (necessary for voice/video)

Support for various advanced radio protocols and 802.11 technologies)

VLAN support to segment user groups and satisfy security requirements

Support for power over Ethernet

Installation flexibility

Cost effective

Ability to support hundreds of users/devices at a time

Easily accessible

Built to last

High memory capacity

Failover

Advanced security options

Fast and secure roaming

Abundance of management options

Client diagnostics and troubleshooting
Since every small business will have different networking requirements, there is no one-size-fits-all solution when deciding between an enterprise and consumer grade wireless solution. A small business needs to weigh factors such as the size and use of the network, pricing, and security features in order to design the right wireless solution for their company.