WiFi signal at 20 MHz has a very distinct shape. This shape leads to overlap on other WiFi channels that can be used for setting up access points (AP). Unlike 2.4 GHz channels, all 25 of the available 5 GHz channels are non-overlapping at 20 MHz wide.
Download our Best WiFi Channel Quick Guide
For best practices, it is highly recommended to choose different 5 GHz 20 MHz channels:
UNII-2c Extended

100, 104, 108, 112, 116, 120, 124, 128, 132, 136, 140, 144
UNII-2a and UNII-2c Extended house all the Dynamic Frequency Selection (DFS) Channels. DFS is a spectrum-sharing mechanism that allows wireless LANs (WLANs) to coexist with radar systems. It automatically selects a frequency that does not interfere with certain radar systems while operating in the 5 GHz band.
An office WiFi design plan should utilize the 5 GHz channels properly. For example, if there are 6 total APs for office roaming on the 5 GHz spectrum, they should all utilize different 20 MHz wide channels that do not overlap. That way, there's no fear of co-channel interference between the APs in network.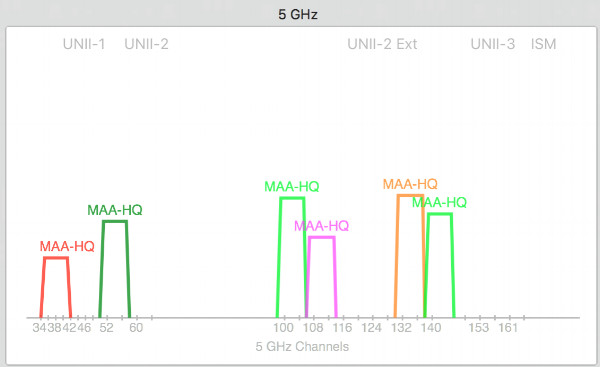 With newer WiFi technologies, APs and clients have a chance to push more bandwidth with wider channels. While a wider channel means a better possibility of more bandwidth, it also means interference.
Here are the non-overlapping channels for each channel width. These are the recommended channels based on allowing the most use of the 5 GHz spectrum. WiFi designs may vary from these channel defaults based on environmental factors, technologies involved, and other unforeseen obstacles.
---
5 GHz at 40 MHz Wide
38, 46, 54, 62, 102, 110, 118, 126, 134, 134, 142, 151, 159

---
5 GHz at 80 MHz Wide
42, 58, 106, 122, 138, 155

---
5 GHz at 160 MHz Wide
50 and 114