Optifi Agent Quick Summary Video
Optifi is an app that lets you monitor your WiFi connection.
Visibility into network and WiFi connection information has been a pain point for Windows 10 and 11 users for years. The available apps aren't easy to use. Now there's a better way.
Optifi is a simple yet powerful tool designed to help you quickly monitor the status of your WiFi connection.
Optifi has the real-time WiFi connection info you need to make smart decisions about your work or home WiFi connection… like whether you should move your laptop to the conference room instead of the lobby to improve your signal.
Optifi gives you instant information about your Internet speed, making it easier for you to identify and fix slow spots before you find yourself waiting endlessly for streaming video to load or large file to fully download.
Optifi is a little taskbar applet for Windows which tracks all your WiFi and network connection information like:
WiFi Connection
Access Point
WiFi Adapter

Signal Strength (dBm)
Signal Strength (%)
WiFi Security Type
Frequency/Channel Band
Channel Number
Channel Width
MCS Index Number
Link Speed (Transmit/Receive)

SSID / Network Name
BSSID
Access Point Vendor Brand
AP Name (If supported)
802.11 Protocol/Mode

Manufacturer
Physical Address (MAC)
Tx Spatial Streams
Rx Spatial Streams
Firmware Version

Network
Operating System
Active Test Measurements

IP address
Subnet Mask
Gateway
DNS servers

Windows Computer Name
CPU Usage
OS Edition
OS Build

Download Speed
Upload Speed
Speed Test Delay


LAN Latency
LAN Jitter
LAN Packet Loss
LAN MOS


WAN Latency
WAN Jitter
WAN Packet Loss
WAN MOS
DNS Query Latency
Remote Worker / Customer - WiFi Diagnostics & WiFi Connectivity Solution
Support remote workers and customers in three easy steps via a browser based solution that gives you user / device WiFi diagnostics and connectivity information.
1) User downloads and installs no-cost Optifi Agent and installs.
2) User shares randomly generated device Share ID with remote technician and clicks button to allow remote technician to view data.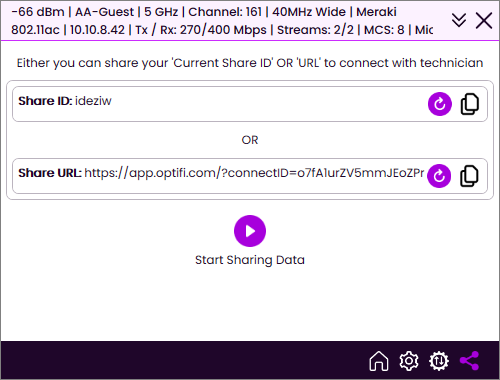 3) Remote technician views signal, speed, device, network details via via browser during support call.