The WLAN Pi Pro is the next iteration of the popular WLAN Pi project. It is a multi-purpose Wi-Fi analysis tool capable of monitoring and analyzing your wifi environment. It comes with an original enclosure, a custom carrier board, dual tri-band Intel AX210 wifi cards, battery, a heatsink for active cooling and a wifi antennas for better signal strength.
WLAN Pi Pro Hardware
Instead of using a single board computer like earlier versions of WLAN Pi, the WLAN Pi Pro uses a Raspberry Pi 4 compute module (CM4) with a customized carrier board and 3D printed enclosure.
CM4 - "The power of Raspberry Pi 4 in a compact form factor for deeply embedded applications. Raspberry Pi Compute Module 4 incorporates a quad-core ARM Cortex-A72 processor, dual video output, and a wide selection of other interfaces. Available in 32 variants, with a range of RAM and eMMC Flash options, and with or without wireless connectivity."
WiFi Cards - Dual Intel AX210 tri-band WiFi adapters
Battery - 18650 rechargeable battery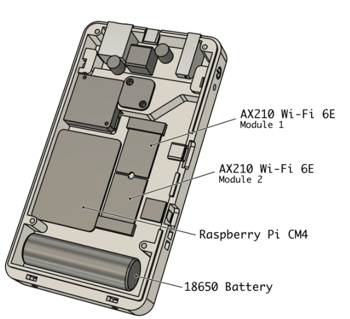 WLAN Pi Pro Internal Hardware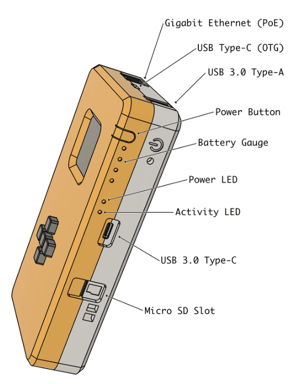 WLAN Pi Pro 3D Printed Case, Ports, Indicators
WLAN Pi OS
WLAN Pi OS - "WLAN Pi OS is built on top of the official Raspberry Pi OS. WLAN Pi OS includes specific customizations for the WLAN Pi Pro hardware and comes pre-loaded with a full suite of tools for Wi-Fi professionals. It runs on the WLAN Pi Pro hardware but also on any Raspberry Pi hardware that is 64-bit compatible.
Raspberry Pi OS is a free operating system based on Debian, optimized for the Raspberry Pi hardware, and is the recommended operating system for normal use on a Raspberry Pi. The OS comes with over 35,000 packages: precompiled software bundled in a nice format for easy installation on your Raspberry Pi."
WLAN Pi Pro Community Edition
WLAN Pi OS is a lightweight Linux distribution that runs on the Raspberry Pi. It was originally made to support the WLAN Pi Pro purpose-built hardware but can be used other Raspberry Pi hardware such as the Raspberry Pi 4 platform. When used with other hardware the WLAN Pi OS is called WLAN Pi R4 or WLAN Pi M4.
WLAN Pi NEO2 vs WLAN Pi Pro vs
WLAN Pi R4 vs WLAN Pi M4
Due to hardware differences, some features are only available with the WLAN Pi Pro purpose built system with CM4 + custom carrier board. See table below and linked for a summary.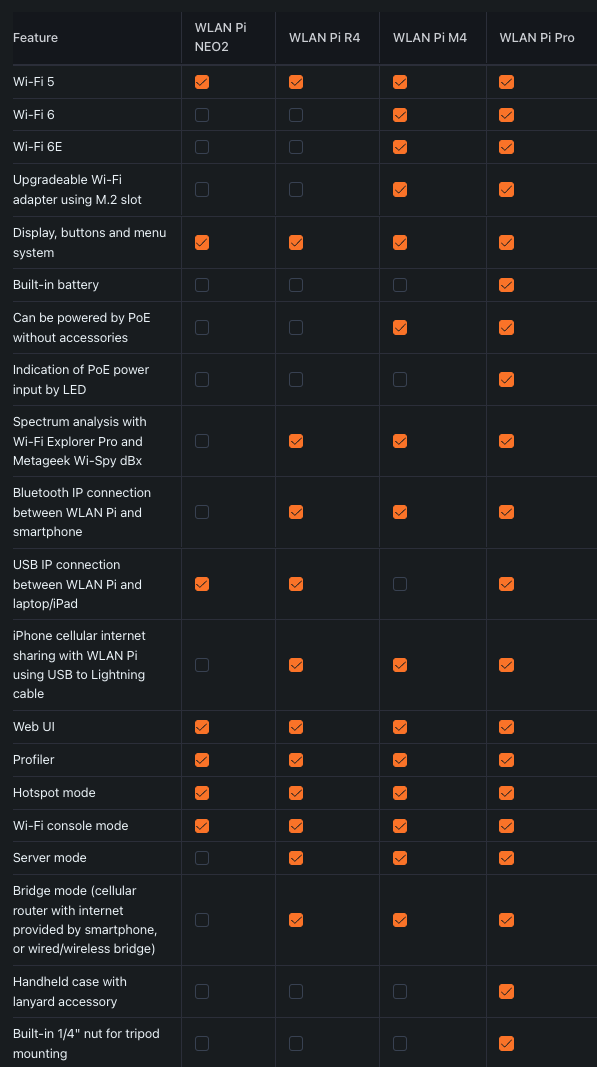 Comparison of WLAN Pi NEO2, WLAN Pi R4, WLAN Pi M4, and WLAN Pi Pro
WLAN Pi Pro and WiFi Scanner Integration
WiFi Scanner for Windows can be used with WLAN Pi and is leverage Raspberry Pi / Linux devices as a remote WiFi scanning sensors. As of WiFi Scanner version 2.8.2.8 we fully support remote sensor scanning using all WLAN Pi models. WiFi Scanner supports 6E / 6 GHz scanning using WLAN Pi Pro and WLAN Pi M4.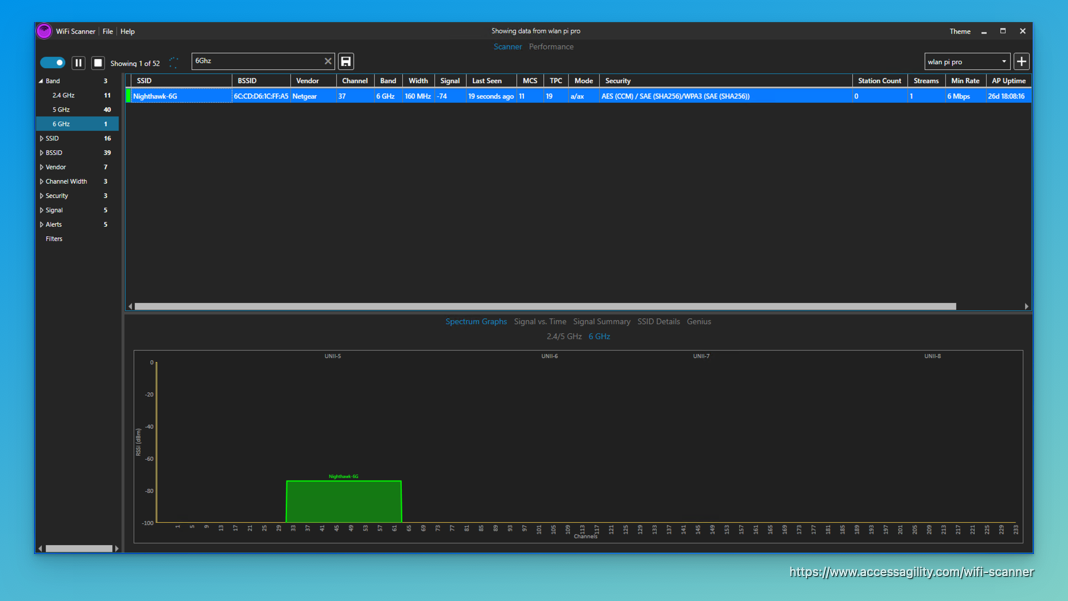 Remote Sensor Scanning 6E / 6GHz WiFi Using WLAN Pi Pro with Intel AX210 Adapters