We are excited to announce that WiFi Scanner now supports the 6 GHz frequency band.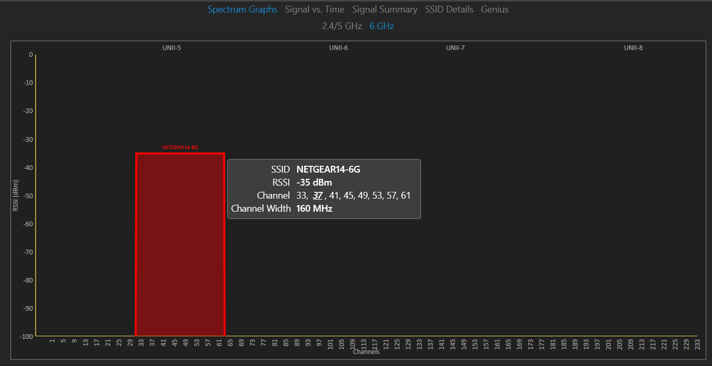 A 160 MHz-wide 6 GHz network shown in WiFi Scanner version 2.5
It's an exciting time in the world of WiFi! We are at the very beginning of the next major shift in WiFi technology - WiFi 6E.
In April of 2020, the FCC unanimously voted to open the 6 GHz band for unlicensed use in the United States. Following the change in FCC rules, the Wi-Fi Alliance added the Wi-Fi 6E designation in 2020 for devices that support the 6 GHz spectrum.
What does this mean? Access to the 6 GHz frequency band opens up a huge amount of additional bandwidth. Until now, being constrained to the 2.4 and 5 GHz frequencies, we've only had access to around 800 MHz total bandwidth. We now have an entire additional 1200 MHz of uncongested bandwidth with 6E. This is an unprecedented amount of bandwidth that is now open for all to use. This allows for far more channels (supporting more devices) and far more wider channels for faster throughput. With 6 GHz, fifty-nine 20 MHz wide, twenty-nine 40-wide, fourteen 80-wide and seven 160-wide ("superwide") channels are now available for commercial use (for APs running on low-power).
Up until now, superwide channels have been a luxury just out of reach. Wider channels allow for super fast throughput speeds, but using wide channels in high-density environments causes overlapping channel contention issues. As a result, wide channels have simply not been practical to use in many environments. Because the 6 GHz frequency offers so many more channels, the use of superwide channels is finally feasible.
Additionally, the use of 6 GHz requires a new protocol for discovery (communication between APs and client devices). Up until now, client devices have approached discovering APs through a "hunt-and-seek" approach that required sending a large number of data requests across multiple channels at the same time. With so many new channels, this method is now impractical and inefficient. Several new protocols have been introduced: Fast Initial Link Setup (FILS), the use of unsolicited probe response (UPR) frames, and Preferred Channel Scanning (PSC). These are all methods of discovery for devices communicating solely within the 6 GHz frequency band.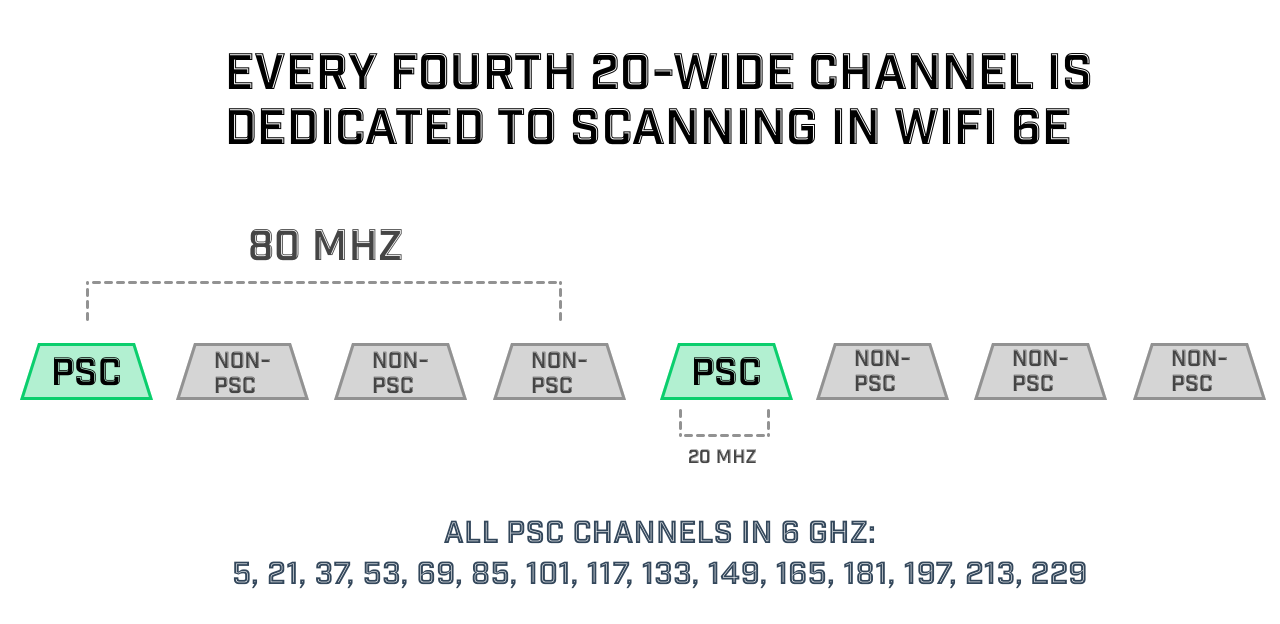 Separately, as vendors roll out consumer WiFi 6E equipment, it's expected that these devices will be tri-band APs. This means that they will use the 2.4, 5, and 5 GHz frequency bands for maximum backward compatibility. Reduced neighbor reporting (RNR) is the new discovery protocol for efficient roaming and communication between devices across all three bands.
According to the Wi-Fi Alliance, 6E promises "expansive spectrum, uncongested bandwidth, superwide channels" and "higher performance, lower latency, and faster data rates." Lower latency, as little is 1 millisecond, will make a huge difference in video conferencing and online gaming. Uncongested bandwidth means higher capacity for use of more devices in close proximity at faster speeds than before and less interference between them. Wi-Fi 6E is the biggest change to WiFi technology in years.
Want to check out the 6 GHz network environment near you today? Download WiFi Scanner for free at the link below.