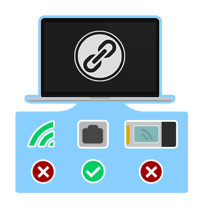 With it's simple yet immense utility, BridgeChecker software allows organizations a robust and easy to deploy endpoint security solution. Whether your organization is based in one office, multiple locations, or in-house plus a remote workforce, our software gives your already overwhelmed IT staff and not so tech savvy or perhaps even forgetful/extremely busy and on the go end users a much more relaxed and serene mindset knowing their desktop, laptop, etc. is running BridgeChecker.
BridgeChecker is a mass deployable and highly customizable WiFi auto switch utility and endpoint security tool that can automatically enable or disable wireless interfaces on Windows and Mac clients. This eliminates the need to rely on end users to manually do this themselves as the software can be rolled out for your entire company in a quick and straight forward installment.
This tool's main purpose is security and is used by a multitude of government organizations as well as commercial entities worldwide. Say for instance if your organization has public WiFi in and outside of your office that is not part of your wired and secured national WAN, you would not want your users connected to both the public WiFi and the LAN as bridging networks can lead to significant security issues (and a real headache for your IT staff). BridgeChecker prevents this cross traffic and handles it behind the scenes by automatically turning off the wireless adapter on the client when a wired network connection is detected.
In addition to maximizing endpoint security, Bridgechecker has many other handy use cases. When the software turns off the UEEE 802.11 wireless network interface this conserves IP address distribution, handles dual interface routing issues (which can affect general computer software updates), and maximizes battery life (especially handy for on the go or "road warrior" employees).
As I mentioned, BridgeChecker is a flexible program. It's compatible with all makes and models of computers as well as network adapters saving your organization hours upon hours of research and configuration. Simply push this tool out for all your users and then "set and forget" by choosing custom policies best suited for your environment. Whether you are a global company with thousands of employees or a small one office location, let BridgeChecker provide an organizational peace of mind knowing your user's machines are secured and running efficiently.