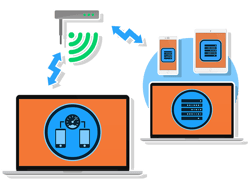 WiFiPerf Professional is a bandwidth performance measurement app for Mac OS. It can operate as a testing client that connects to different testing servers. Use WiFiPerf Professional to test to Mac OS, iOS, Windows, and Android that have either iperf2/iPerf3 (server mode) or a WiFiPerf EndPoint running.
It was built for testing bandwidth to other devices, such as other desktops/laptops or mobile devices. This ensures real-world network testing of actual devices within a network.
WiFiPerf Professional allows users to queue multiple tests to varying clients, with varying test settings. Save test queues for quick and easy retesting of the same clients and settings.
Built upon the open source iPerf3 software (available for many operating systems), WiFiPerf Professional is able to measure the available TCP and UDP bandwidth along a path between two hosts. This includes both wired and wireless devices on the network.
Some use cases:
Wired links / back haul throughput testing
Max throughput of a client or AP
WiFi project acceptance testing
Client count vs throughput testing
Traffic generator for spectrum analysis
Background traffic for QoS for testing
PTP / bridge link alignment / throughput testing
Client throughput vs distance from AP
20 MHz, 40, 80 MHz channel BW comparison
Minimum data rates comparison
WiFiPerf Endpoints (iPerf2/iPerf3 -s)
WiFiPerf Endpoints run a server (iPerf3 -s) only and are intended to be paired with WiFiPerf or iPerf2/iPerf3 clients (iPerf3 -c) for testing. It will also record a log of the test results.
Download an Endpoint and use its IP Address in WiFiPerf or iPerf3 available for:
Mac OS
iOS
Android
Windows
iPerf Compatibility
: WiFiPerf Professional is based on iPerf3 (3.0.1) or newer. However, users can use iPerf2 set up by going into Preferences and switching to iPerf2.